who we are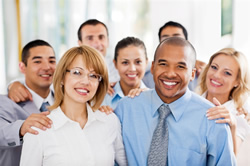 EmploymentScreeningRFPs is a consortium of the leading Employment Screening providers.
These Consumer Reporting Agencies (CRAs) meet or exceed screening industry requirements for adhering to FCRA compliance regulations, providing superior customer service and offering a full slate of screening solutions to the HR world. Each of these CRAs specialize in tailoring their services to meet the unique screening needs of each entity they serve. Some of the common qualifications of the screening providers here at EmploymentScreeningRFPs are detailed below.
Qualifications
Our Customer Philosophy

The primary philosophy of our consortium members is to provide you with screening solutions that greatly meet the needs of your organization. Our CRAs focus on providing the best-in-class customer service! Part of this is shown by their emphasis on fast turnaround and customized screening service packages designed to meet your unique needs. All of this wrapped up with the highest levels of compliance administered per the Fair Credit Reporting Act (FCRA).

Cutting-Edge Technology

All consortium members are backed by extremely advanced technology for employment screening. We are capable of utilizing this technology to serve any of your unique screening needs whatever they may be. This includes sophisticated web-based ordering and result viewing capabilities plus a highly compliant Applicant Management Center which allows you to service your applicants by accepting and managing on-line authorizations. We also excel at providing integrations to your choice of HRIS or Applicant Tracking Systems (ATS) or can offer pre-integrated ATS options to manage your hiring processes.

INDUSTRY TRADE ASSOCIATION

Most of our consortium partners are members of the Professional Background Screening Association (PBSA) and many are founding members of this organization. The PBSA exists to promote ethical business practices, compliance with the Fair Credit Reporting Act, equal employment opportunity and state consumer protection laws relating to the background screening profession.